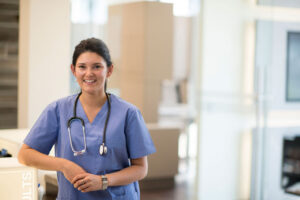 Medical assistants serve as a critical link between medical staff and the patients they serve. You won't find a successful independent medical practice, large clinic or hospital anywhere in the country that doesn't run more efficiently thanks to the medical assistants that staff the front desk, back office and exam room.
Medical assistants work hard to ensure both the administrative and clinical sides of medical practices, doctor's offices, hospitals and assisted living facilities run smoothly so that medical practitioners are available to provide patients with the best care possible.
<!- mfunc feat_school ->
Sponsored Listings
Even surpassing the job growth seen in the massive American healthcare industry, which the Bureau of Labor Statistics puts at 15% over the ten-year period leading up to 2029, properly trained medical and administrative medical assistants can expect to see plenty of opportunities in the years ahead and respectable salaries to match.
There are many reasons to enter this great profession including a relatively short training period, great working hours, a professional work environment, and a respectable salary.
---
Average Medical Assistant Salaries
Certified Medical Assistant Salary
Benefits Can Add a Lot to Your Base Medical Assistant Salary
Medical Assistant Salaries By Practice Setting
Average Medical Assistant Salaries Around the Country
Medical Assistant Job Growth Outlook
---
Average Medical Assistant Salaries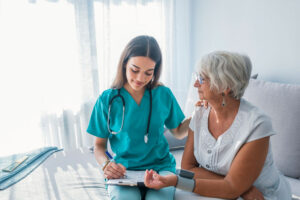 Medical assistant salaries are impressive when you consider the low barrier to entry and relatively short period of education and training involved in preparing for the job.
According to the Bureau of Labor Statistics (BLS), a recent graduate from a medical assisting certificate program can expect to enter the profession earning a salary of about $30,360 ($14.59/hour), which represents the average for the bottom 25% of the field.
With just a few years of experience, you'll be earning around the average for the profession, which comes in at $36,930 ($17.75/hour).
The most seasoned medical assistants – and likely those who take on supervisory or leadership positions – earn salaries that best reflect the top 25% – 10% percentile of the field, clearing a respectable yearly salary of $41,280 ($19.85/hour) – $50,580 ($24.32/hour).
Certified Medical Assistant Salary
In most cases, Certified Medical Assistants — those who have received certification through the American Association of Medical Assistants (AAMA)— receive a premium pay rate.
Employers often prefer to have CMAs on staff since the credential comes with the assurance that the holder has had comprehensive training and has been thoroughly vetted through background checks and competency exams. Since certification ensures that candidates have met rigorous training standards, demonstrated knowledge through testing, and are capable of providing high quality services, it's not uncommon for employers to cover the cost of the certification process after hiring new MAs to join the team.
Benefits Can Add a Lot to Your Base Medical Assistant Salary
But that's not all you can expect as a medical assistant. According to the 2020 CMA Compensation and Benefits Report by the AAMA, medical assistants enjoy strong benefits packages that include health/dental insurance, disability insurance, sick leave, disability and life insurance, and more. In fact, 97% of all full-time CMAs reported a benefits package. The report also found that 86% receive paid vacation and 74% receive major medical coverage.
Medical Assistant Salaries By Practice Setting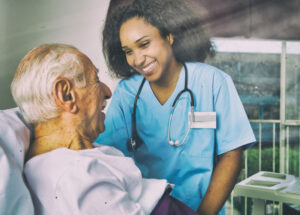 According to the AAMA, the overwhelming majority of medical assistants – 95% – worked in physicians' offices as of 2020. During this time, the BLS reported that medical assistants in this setting earned an average salary of $36,580 ($17.59/hour).
Medical assistants working in offices of other healthcare practitioners earned slightly less at, $33,210 ($15.97/hour), while those in retirement/assisted living facilities earned an average salary of just $30,870 ($14.84/hour).
The highest paid medical assistants worked in outpatient care centers, where they earned an average salary of $42,330 ($20.35/hour), followed by those in general medical and surgical hospitals, where they earned an average salary of $38,200 ($18.37/hour).
Average Medical Assistant Salaries Around the Country
Although salaries for medical assistants don't vary greatly depending on geographical location, some states come out slightly ahead when it comes to average salaries for these medical pros, including these top states to work as a medical assistant:
Alaska: $46,610 ($22.41/hour)
Washington: $45,700 ($21.97/hour)
Washington D.C.: $45,340 ($21.80/hour)
Massachusetts: $43,090 ($20.72/hour)
Minnesota: $43,090 ($20.72/hour)
As expected, some of the top-paying metro areas in the country for medical assistants are in regions with higher costs of living:
San Francisco (includes Oakland, Hayward), CA: $53,960 ($25.94/hour)
Vallejo (includes Fairfield), CA: $53,660 ($25.80/hour)
Santa Rosa, CA: $52,520 ($25.25/hour)
Seattle (includes Tacoma, Bellevue), WA: $49,070 ($23.59/hour)
San Jose (includes Sunnyvale, Santa Clara), CA: $49,020 ($23.57/hour)
Sacramento (includes Roseville, Arden-Arcade), CA: $48,600 ($23.37/hour)
Olympia (includes Tumwater), WA: $47,530 ($22.85/hour)
Anchorage, AK: $45,790 ($22.02/hour)
Salary by Region (drag mouse over your region)
What are medical assistants earning where you live? The following BLS highlights pay for medical assistants by state and by percentile (25th – early career professionals; 90th – highly experienced professionals often holding managerial/leadership positions), as of May 2020:
Area Name
Employment
Hourly median wage
District of Columbia
1860
21.78
Medical Assistant Job Growth Outlook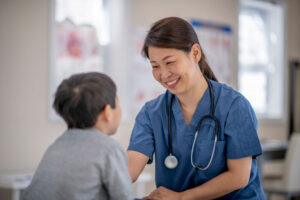 Both aspiring and practicing medical assistants will feel good knowing that the career outlook for medical assistants is very promising. In fact, between 2019 and 2029, the number of jobs in medical assisting is expected to grow by a truly impressive 19% – that's more than four times the average national growth rate of all professions during this period.
The profession should see about 139,200 job openings during the period ending in 2029 due to a combination of new job growth, and normal turnover as MAs transition to retirement.
This demand has undoubtedly helped boost the average salaries for medical assistants in recent years, with substantial year-over-year increases as tracked by the Bureau of Labor Statistics:
2016 – $32,850 ($15.79/hour)
2018 – $34,540 ($16.61/hour)
2020 – $36,930 ($17.75/hour)
May 2020 Bureau of Labor Statistics salary and job market trends for medical assistants. Figures represent national data, not school specific information. Conditions in your area may vary. Data accessed June 2021.
<!- mfunc feat_school ->
Sponsored Listings