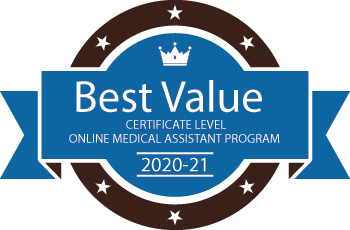 Becoming a medical assistant is one path into an industry that is growing like gangbusters in the United States. According to the Centers for Medicare and Medicaid Services, the healthcare industry accounted for almost 18% of the entire Gross Domestic Product of the country in 2018. Healthcare also accounts for the largest sector of the American labor market, and that job share is only likely to continue increasing right along with the growing demand for healthcare services.
Driven by an aging population, demand for more advanced services, and a shortage of doctors, most healthcare employers are not only expecting to do a lot more hiring over the next decade, but will also be offering higher wages as a way to compete for the most qualified candidates. This is as true of medical assistants as it is of any other allied health profession, and perhaps even more, especially in the smaller clinics and private practices that have come to rely on them to keep the business running smoothly.
But the same factors that are driving those increases are also making it more important to get the right education. Healthcare has become highly technical and extremely complicated. A high school diploma just isn't enough, even at the entry-level.
An online certificate program can help qualify you to perform those tasks and pull down the kind of paychecks you deserve as a medical assistant.
<!- mfunc feat_school ->
Sponsored Listings
Does a Certificate Program Qualify You For Certification as a Medical Assistant?
Yes. Certificate programs in medical assisting not only give you the skills you need to serve as a vital member of private practice and other healthcare teams, they also meet the minimum education requirements for industry standard professional certification.
There's a difference between earning a certificate and becoming a certified medical assistant, and that's a point that often needs some clarification for people getting started in the field. An academic certificate is similar to earning a degree; it's what you earn after completing your education and training through a community college or private vocational training program… Professional certification, on the other hand, is something you can choose to earn voluntarily through a third-party certification agency. It involves meeting certain education and training requirements to be considered a qualified candidate, and then passing a certification exam. An academic certificate in medical assisting meets the education and training requirements to become nationally certified.
Although certification is not a legal requirement for becoming a medical assistant, it's a common requirement among many employers since it's an easy way to identify the most qualified job candidates.
Although a certificate program is usually the fastest and least expensive option for meeting education requirements for professional certification, you can also fulfill it by earning a diploma or an associate's degree in the field.
In the U.S., there are two organizations that offer certification for medical assistants:
Both the CMA and RMA credential require you to pass an examination and to undergo professional training from an accredited school. For the RMA, the school you attend must hold regional or national accreditation, which is a basic standard that every credible school in the U.S. meets. The CMA credential, on the other hand, requires that your certificate have specialty program-specific accreditation from CAAHEP or ABHES.
It's important to note that not all certificate programs are automatically accepted for the CMA. Some schools have structured their courses to offer a low-cost certificate that serves as an introduction to the field, but does not fulfill all CMA requirements. Those schools instead treat the certificate as a pathway into a longer associate's level program that they also offer.
For any certificate programs we feature on this list that don't meet the CMA requirements, we note it clearly.
Will an Online Certificate Program Deliver the Training You Need to Become a Medical Assistant?
Online medical assistant programs can be a huge advantage for anyone looking to become qualified as a medical assistant. They are typically less expensive than traditional options and much more flexible. It's easy to hold down your current job and keep up with all your family duties when you can time-shift your courses to evenings or weekends, or tackle coursework whenever you have a couple hours to spare.
Medical education in patient-facing roles is very hands-on, however, so no medical assistant certificate program is truly offered 100% online. You'll find that there are still certain courses and labs in patient care that require you to show up on-campus, and you'll also be participating in an internship or practicum at some local medical facility to get the required real-world experience.
By combining those on-site classes with virtual courses using the latest technology in chatrooms, digital blackboards, online libraries, and video conferencing, you can get the best of both worlds, receiving the kind of hands-on training that gives you confidence in your new skills, while maintaining the kind of flexibility that allows you to complete your training while holding down a job or taking care of your family.
This is why, even for programs with online curriculum, we organized our list by state – even with online courses, you're still going to want to go with a school that's close to home. It's worth noting that some schools with online programs do accept students in neighboring states where they have satellite campuses and clinical partnerships in place with local facilities for practicums and internships.
How Important is Accreditation in Medical Assistant Certificate Programs?
Very important!
First, in online programs, you have to trust the online curriculum and the delivery methods for those courses… The actual face-to-face time with instructors is limited – you may not even always be in the same state – so you want to be sure the course material itself has been thoroughly evaluated and signed-off on by a reliable accreditor.
That reliable accreditor would be one of the two specialty accreditation agencies that review and put their stamp of approval on top-quality medical assistant programs at all levels:
Both agencies are recognized by CHEA, the Council on Higher Education Accreditation, which validates accreditation bodies in the United States. That means you can trust their judgement on everything from faculty hiring standards and evaluation criteria, curriculum development and on-going improvement processes, to grading and appeals policies, and even school resources and facilities.
As specialty accreditors, they are particularly focused on evaluating programs according to the current standards and state-of-the-art in the healthcare industry. And that means delivering an education that will get you both certified and hired.
That's why we use accreditation as the baseline for establishing quality in our value assessment… and so what you'll find here are only the most affordable accredited programs.
Finding the Online Medical Assistant Certificate Programs That Offer the Best Value
Cost was king in our evaluation of accredited certificate programs when building this list so we only include programs that are below the state average in total program price. The only exceptions we made were for schools that offered the only online option in the area – if it was slightly higher than the state average but the only online program around, we went ahead and included it.
In cases where there's only one school in a state offering medical assistant certificate programs, we weighed the tuition rate against other programs in the region to be sure that it was still within the range of what could be considered a low-cost program.
Because we look at both public and private schools, we separated the averages so that the cost comparisons are all like-to-like. Public schools are typically supported in part by tax dollars, which lowers their tuition rates overall. However, private schools may have more flexibility in how they develop curriculums, partner with outside agencies, and staff instructors, so they have some advantages that come with the generally higher tuition rates. Regardless, we include the lowest-cost option from each category in a state unless the cost is entirely out-of-line with regional norms.
We make recommendations on a state-by-state basis despite the fact that these programs are all offered online because the hands-on practicum requirements mean you will still have to spend at least some of your time on-site, either at the university or an approved hospital or medical center in the area.
Because all these programs hold specialty accreditation, we're confident in their resources, academic standards, and the quality of faculty. However, we know that you are going to want to pick a program that lines up with your own personal preferences and goals. That's why we've also made sure to note other important factors in each program, including aspects like:
Student graduation and placement rates
Special career coaching programs
Exemplary online learning systems
Topics of special interest that are taught
State-by-State Guide to the Most Affordable Accredited Online Medical Assistant Certificate Programs
With all the low-cost programs featured here, you'll get all the information you need to make an informed decision in picking the right one for your needs. And just as importantly, you can be sure every single one of them represents the lowest cost fully-accredited online option available in the area.
Alaska / Arizona / Colorado / Florida / Idaho / Maine / Massachusetts / Missouri / North Carolina / Ohio / Pennsylvania / Texas / Washington
<!- mfunc feat_school ->
Sponsored Listings