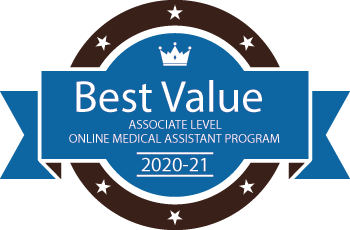 Becoming a medical assistant offers one of the fastest paths into the lucrative and rapidly growing healthcare industry. With government forecasting showing a 23% increase in the number of medical assistant jobs over the next decade, this career path offers a near-guarantee you'll enjoy job security and stable pay no matter what else happens with the economy during that period.
That's because the demographic push behind all the expansion the healthcare industry is going through is pretty much locked in. As more Baby Boomers retire and get older, their medical and eldercare needs increase accordingly. And since this wave of retirees has more money to spend than any other generation before, they're more than happy to pay for all the latest breakthroughs in medical technology.
At the same time, the growing shortage of doctors and other healthcare professionals continues to push demand and responsibilities down the ladder to medical assistants. That's because MAs provide the perfect solution; they can be trained relatively quickly and are capable of improving efficiency on the clerical and administrative side of healthcare operations, while also filling gaps in some basic patient services.
With only a two-year associate's degree under your belt, you can get all the qualifications you need to become a medical assistant, with relatively low up-front costs. And by picking an online option, you can do it without giving up your current job or causing major disruptions to your family life.
Now all you have to do is find a quality program at a reasonable price… and that's exactly what we provide you with here.
But it wasn't just a matter of finding the cheapest programs out there; it was about finding the lowest-cost, fully-accredited programs that employers recognize, and that meet the requirements for professional credentials.
<!- mfunc feat_school ->
Sponsored Listings
Meeting the Education Requirements for Certification with an Online Associate's Degree Program
Medical assistants occupy a critical space in clinics and hospitals where they bridge gaps in administrative duties and basic patient services. You may be asked to handle office tasks like billing and coding, filing charts, or answering phone calls… but also perform blood pressure checks, administer injections, draw blood, or assist doctors during patient assessments.
Because patient contact is serious business, becoming professionally certified as a medical assistant is all but required to get a job in the field today. To be clear, becoming certified is totally voluntary and there are no legal requirements for doing so, but you'll be hard pressed to find an employer that doesn't list certification as a job requirement.
You can earn that certification from one of two different organizations:
American Association of Medical Assistants awards the widely recognized Certified Medical Assistant (CMA) credential to individuals who graduate from accredited programs and pass the certification exam.
American Medical Technologists awards the Registered Medical Assistants (RMA) credential to individuals who complete a medical assisting program (no specialty, program-level accreditation required) before going on to pass the certification exam.
With either certification, the medical assistant program can be at the diploma, certificate, or associate level.
An Associate Degree in Medical Assisting Offers a Practical Education in Healthcare – Even When It's Delivered Online
A certificate tends to be the shortest and least expensive option, but also delivers the least training, while a diploma takes slightly longer and costs slightly more.
An associate's degree will take the longest, about two years, and cost the most, but it also offers the highest level of education, greatest amount of respect from potential employers, and the most flexibility in continuing your education at a higher level later if that's what you choose to do. It's the educational choice that involves the biggest investment of both time and money, but it also pays the biggest dividends, both in terms of professional opportunities and professional skills.
Healthcare is definitely a hands-on, contact-intensive industry, and you are probably the kind of person who wouldn't even be interested in being a medical assistant if it didn't allow you to help people in-person.
So, it's only natural to wonder if an online program is going to give you the kind of real-world skills you need to succeed.
The good news is that no medical assistant program that's worth its salt is completely, 100% online. All accredited programs, even those that advertise themselves as being offered online, blend the online coursework with on-site hands-on learning, labs, and practicums that deliver the patient contact hours required to develop critical skills and qualify for certification.
The combination offers you both the direct, hands-on experience you need while also giving you the flexibility to meet other commitments in your life that may be less flexible: taking the kids to soccer practice, holding down your current job, even sneaking in a quick vacation.
You'll be glad to have the flexibility that even these partially online programs are able to provide.
The Importance of Finding a Fully Accredited Medical Assistant Associate's Program
We believe that specialty, program-level accreditation is the best way to establish a baseline for quality. There is no short-cutting the accreditation process, and only programs that meet the highest standards for all aspects of curriculum, training and instruction end up with the stamp of approval. Even achieving the CMA credential requires you to graduate from an accredited program.
That's why all the programs we assessed for pricing, and that ultimately made their way onto this list, are fully accredited. In the end, we only recommend degrees that have been evaluated and accredited by one of these two agencies:
These organizations undertake an exhaustive assessment of each program to verify that it meets current industry standards and practices in everything from curriculum, laboratory resources and instructor hiring processes to tuition policies, admissions processes and administrative procedures.
Through a combination of reports, self-assessments, and site visits, accreditation agency evaluators assess those factors against the needs of the healthcare industry. It's an ongoing process, with schools reassessed periodically to ensure they are keeping up with the ever-changing medical industry.
You can count on the degrees shown here to give you the kind of education you need to stay ahead of the curve as a medical assistant.
Finding the Best-Quality, Best-Priced Online Medical Assistant Associate's Degree Programs
Accreditation was a clear bar that every program that made our list had to clear, but beyond that, cost was king: on this list, you'll find only the lowest cost fully-accredited degree programs offered in each state.
Although all of the programs are offered online, we still assess and list them on a state-by-state basis because the hands-on training components and practicums mean you will still have to show up in person at least a handful of times.
And since we performed our assessments on a state-by-state basis, you can be sure you're getting a great deal, as most programs that made the list are priced below the state average for similar programs.
We found the average cost of public and private schools in each state separately. Because the funding sources and pricing are often so different, with significant subsidies often available at public schools for in-state students, it only makes sense to put them in separate categories. We include the lowest cost options in each, and identify the school's accordingly. This way, we were able to show the lowest priced public and the lowest priced private option in each state when both options were available.
In states with only one program in either category, we were glad to include it to provide you with the full picture of all options available, as long as the tuition rate was comparable to other low-cost programs in the region.
State-by-State Guide to the Most Affordable Accredited Online Associate's Programs in Medical Assisting
And because cost still isn't everything you need to pick a program that's ideal for you, we also identified the other important features you need to make an informed decision, including things like:
The type and quality of online learning management systems
Flexibility of course scheduling
Partnerships with local medical schools or teaching hospitals
Bonus features like school-issued iPads or academic tutoring or job placement services
You can be sure you'll find nothing but the best-priced programs listed here… and with all this other information, you can decide which one of these low-cost programs is right for you.
Alaska / California / Colorado / Georgia / Idaho / Illinois / Maine / Maryland / Massachusetts / Michigan / Minnesota / New York / North Carolina / Ohio / Pennsylvania / Texas / Utah / Virginia / Washington
<!- mfunc feat_school ->
Sponsored Listings