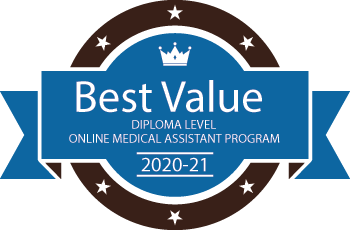 Jobs in the healthcare i ndustry have long been a ticket to solid, respectable, stable employment. The medical industry has been booming for so long that it's hard to remember a time when job demand hasn't been strong, and all signs point toward the future bringing more of the same. In a nearly $12 trillion global industry, the analysts from international consultancy Deloitte expect another 5 percent growth between 2019 and 2023.
This is opening up a big window for entry-level positions, creating opportunities for anyone with the right training to land jobs and advance careers in an industry known for stability and good pay.
One way to get into the field quickly and take advantage of the boom without saddling yourself with a boatload of debt is to become qualified for a medical assistant position. Like most jobs in healthcare, the demand for MA's is skyrocketing… the United States Bureau of Labor Statistics predicts a lightning fast 23% increase over the course of the next decade.
With a medical assistant diploma, you can land one of those positions in less than a year, and by picking an online program, you can do it with minimal disruptions to your family life and other commitments.
While you're exploring your options for the right medical assistant diploma with online courses, it only makes sense to find the most affordable programs available to you too– and that's exactly what you'll find here.
<!- mfunc feat_school ->
Sponsored Listings
Does a Diploma Meet the Requirements for Medical Assistant Certification?
Yes. Professional certification is becoming more and more important in the field to ensure that MAs have been trained with the right knowledge and skills, and a diploma program can certainly provide that training.
Certification is an entirely voluntary process, but there are a growing number of employers that won't even consider job candidates who aren't nationally certified. This means it's definitely something you want to be thinking about.
There are two main organizations in the U.S. that offer voluntary certification for medical assistants:
American Association of Medical Assistants (AAMA), the oldest and most widely recognized certification agency, offers the Certified Medical Assistant (CMA) credential. This exam-based certification requires you to complete a diploma, certificate or associate's degree program in medical assisting accredited by either CAAHEP or ABHES, the two agencies responsible for verifying the quality and completeness of medical assistant programs. As of recently, AAMA will consider programs that aren't accredited, though they do require a full transcript review to ensure curriculum requirements were met.
American Medical Technologists (AMT) offers the Registered Medical Assistant (RMA) credential, an exam-based certification that requires you to hold a diploma, certificate or associate's degree in medical assisting from an accredited school. Program-level accreditation is not required.
In both cases, the educational requirement can be fulfilled simply by completing a medical assistant program at the diploma, certificate, or associate's level.
A diploma program fills the middle ground between two-year associate's degrees and the shorter, more compact certificate programs. Typically taking about a year to complete, a diploma program offers a similar curriculum to what you'd find in the shorter certificate programs, but covering those subjects in greater depth and at a more digestible pace, while costing considerably less than a full associate's degree. You could pretty easily argue that it's the best option available, giving you a rigorous and focused education in a reasonable length of time and at a reasonable cost.
Can You Count On Online Medical Assistant Diploma Programs For a Solid Education?
Since healthcare is definitely a hands-on industry, you might wonder if online programs will really get the job done when it comes to providing a complete education.
You can only qualify for CMA or RMA certification if you have completed a practicum in the form of a supervised internship or externship as part of your medical assistant program. It follows that all accredited programs include exactly that kind of hands-on, real-world training.
That means that every program we feature is actually hybrid, combining the best of both worlds—online interactive coursework in subjects like medical terminology, billing and coding, and medical ethics that you can dive into on your own time from anywhere… in addition to on-campus labs and on-site practicums that put you in simulated and real-world environments for hands-on learning of things like anatomy, physiology, lab work, and the many aspects of direct patient care.
Although your on-site attendance involves some regular commitments, many of these courses allow evening or weekend attendance. And the online components of most programs are delivered asynchronously, which means that you can take your class any time of the day or night, fitting in your homework at 3am in your PJs if you want. Great connectivity and state-of-the-art virtual classrooms ensure you get the same comprehensive training as traditional students… at a lower cost and with more flexibility.
Why Accreditation is Important in Selecting a Medical Assistant Diploma Program
To deliver that comprehensive training effectively, you need to be sure you are picking a program that checks all the right boxes in terms of faculty, curriculum, and resources to get the job done. A diploma isn't a good value if it's not getting you in the door for the right credentials, no matter how inexpensive it might be.
That's why we only considered diploma programs with specialty accreditation from one of the two agencies that review, vet and grant accreditation to qualified programs:
Although some of the details differ, both agencies put schools through a rigorous process that involves external evaluation, and on-site visits to review their adherence to standards in everything from student finance policies, admissions and grading processes and truth-in-advertising to faculty and program management standards, curriculum quality, and laboratory resources.
Having gone through and met those high standards isn't just a one-and-done deal, either. Schools are subject to continuous improvement processes and regular re-evaluation and renewals to ensure they're keeping up with the latest technologies, practices, and standards in the field.
How We Picked the Best Value Online Medical Assistant Diploma Programs
Although accreditation was an essential element for every school we considered, we also took other steps to ensure you're looking at diploma programs that offer you the best value for your dollars.
First, the online aspects of the programs are essential. Nothing screams value like a school that lets you be the final judge of how and when to spend your time. It's also true that online programs tend to be less expensive overall—no classrooms to pay for!
But because healthcare and medical education is a hands-on business and all these programs have at least some on-campus requirements, we made our tuition assessments on a state-by-state basis, going with the best priced programs in each state. You will have to participate in internships, externships, and other on-site courses for the required patient contact hours, so you still need a school that is close to home.
We ranked all schools against other schools in the same state, and only within the same category, public or private. Because funding mechanisms and standards vary between public and private schools, we felt it made the most sense to compare like-to-like.
Among those, we only include schools that fall below the state average for total estimated program cost. In states where only one school offers a diploma program, we still evaluated it against costs of schools in neighboring states to ensure it can truly be considered a great value.
And although we're confident these programs will meet all your needs for an affordable medical assistant diploma, we highlight other points that would be useful to you in choosing the right option:
Quality of interactive learning features
Day or evening courses
Community and partner relationships
Accelerated class options
Extras like school-issued iPads or free academic tutoring
State-by-State Guide to the Best Value Online Medical Assistant Diploma Programs
In the end we identified the absolute lowest cost medical assistant diploma programs in each state that hold either CAAHEP or ABHES accreditation, featuring only those programs that offer some online curriculum. Then to make sure the list was more than just list a of programs and tuition rates; we give you everything you need to identify the best choice for your personal needs.
Alabama
Connecticut
Florida
Georgia
Idaho
Illinois
Kentucky
Maine
Minnesota
North Carolina
Ohio
Oklahoma
Oregon
Pennsylvania
Utah
Virginia
West Virginia
Wisconsin
<!- mfunc feat_school ->
Sponsored Listings